Good Advice from the Howland family
My most recent journey through TC's collection of historic children's  literature has led me to the early 1850's, Worcester, Massachusetts. Good Advice for Boys and Girls was published by Southworth Allen (S.A.) Howland, a printer and direct descendant of John Allen, one of the original passengers aboard the Mayflower.  The image on the book cover was created by a wood engraving and the title page is signed by John H. Hall who we think authored the text.  This book is very small, three inches wide by three and a half inches tall and printed on very fine paper. (Perhaps the children of the 1850s had better developed motor skills and could sustain something so small and delicate.)
Southworth Allen Howland published in Worcester between 1842 and 1853 and was mostly known for printing hymnals and Sunday School literature.  If you are interested in reading the book in its entirety, you can do so through the Internet Archive. If you prefer to quickly get the gist, here goes: learn how to read so you can read the Bible; love your parents and your brother and sister and don't fight with them; do not steal, do not lie, do not make promises you cannot keep; love God above all things and pray to him; try to be like Jesus.
Granted, Hall is more articulate than I am; here are some snippets.  "It is very foolish to tell lies; for, soon or late they are found out; and it is very mean and wicked. God himself has said, that we must not lie; that he abhors liars, and that he will punish them. Ananias and Sapphira were struck dead for telling lies." (8-9)
"The things that God requires of us will make us good and happy. If we do them not, he will be displeased with us, and will punish us   He can punish us in whatever way he pleases. He can take away all our friends, and every thing that he has given us; and after death, he can make us miserable forever." (14)
Incase you're still reading, the last bit of "good advice," in the form of a poem,  is below.
Though Howland was mostly known for printing books like this or the Little Hymn Book by Isaac Watts (also part of TC's collection) he printed other things as well, which in my opinion, are also worth exploring.
Cookbook/ Guide on surviving the 1800s
Howland printed the American Economical Housekeeper, which was created by his wife Esther Howland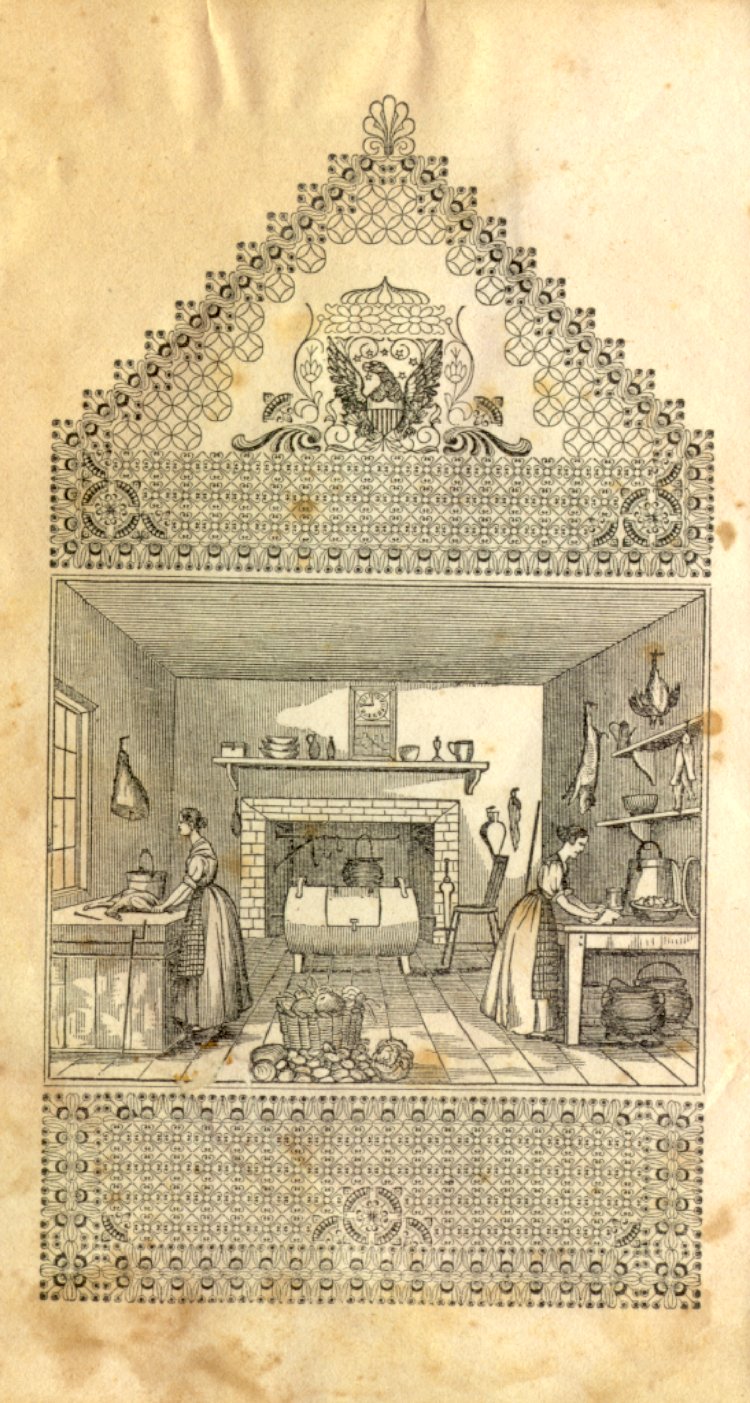 and printed under different but similar names for 45 years.
Here are some highlights from the book's recipe, medicinal and miscellaneous sections:
Recipe for apple pancakes
*saleratus is baking soda
How to cure deafness and how to remove a mote from your eye (what a page!)
*I think a mote is a piece of grain or food
According to Michigan State University, who has digitized the book as part of their Feeding America digital library project, Esther Howland's book was not considered to be one of the more "accomplished, thoughtful domestic manuals" of the time. Though I haven't yet tried her gingerbread, her husband lived to the ripe old age of 82 and I think that makes her advice worth considering.
You're probably thinking to yourself: "Wow! Those Howlands, what a family,!" Well, before I sign off I'd like to introduce yet another member of the Howland family.  Esther Allen Howland is the daughter of S.A. and Esther Howland and in some circles, she is known as the mother of American Valentine's Day!
According to the American Antiquarian Society, Esther was so inspired by the first English Valentine she received, she started the New England Valentine Company in 1850 (with the help of her father and now brother's printing business.) It is reported that her assembly line style Valentine manufacturer was so successful,  having earned over $100,000 annually, she retired at 53 and sold the business to George C. Whitney, who turned it into a greeting card empire.
Just in case you're curious, below find some images of Esther's valentines.  I've always believed that nothing says love like a well placed doiley. I wonder what ever happened to the boy who sent it to her? Fodder for my next post…just kidding:)